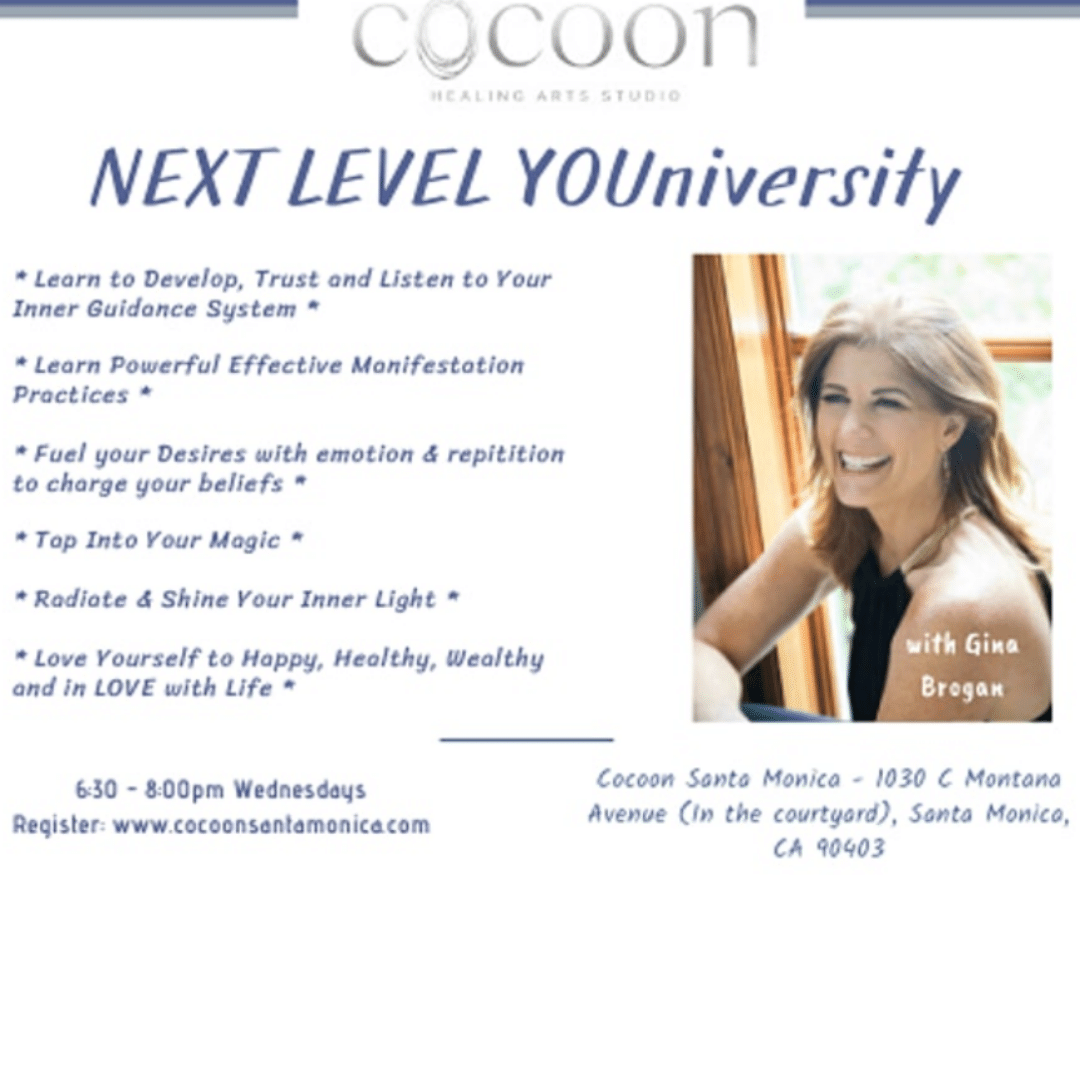 1030 C Montana Avenue Santa Monica, CA 90403
Learn Habits of Mind, Word, Action to Love Yourself to Happy, Healthy, Wealthy and In LOVE with Life
I'm so excited to announce that I am officially on the schedule at Cocoon Santa Monica and am bringing the magic of manifestation to you LIVE every Wednesday at 6:30 pm.
It is a true manifestation come to life for me. To share the magic of creating the INNER conditions for outer success with creators and dreamers alike has been my life's work for the past several years in the online space and at my retreats
Now I'm feeling so blessed with the opportunity to share this POWERFUL work in person.
If you have a dream inside of you that you want to bring to life…
If you want to know how to develop, listen to and trust your intuition…
If you want to learn to create habits to LOVE yourself to happier, healthier, wealthy and in love with life…
If you feel stuck and in your own way in your relationships, career, family, health or home…
If you're CRAVING a deeper connection with like-hearted humans to share your visions with and the loving support and coaching to encourage you to bring them to life…
If you KNOW there is MAGIC inside you And you DESIRE the creative space to bring it out…
If you crave a deeper sense of COMMUNITY, CONNECTION and COLLABORATION…
If you just want to learn how to step into your NEXT LEVEL LIFE….
THIS is the place for YOU!
Bring a journal, a pen and your open heart!
Watch the video below to get a sense of me and some of the work we will do together.
About Gina:
Gina Brogan is a spiritual life coach, master manifester, retreat leader, public speaker and a single mom. "I am totally obsessed with helping people just like you reconnect with their authentic selves and uncover their passions through customized self-care programs and deep inner exploration."
Growing up, we learn to believe a lot of baloney that is just not true, but we allow it to hold us back. I used to believe that I was not worthy of being happy wtihout strings attached, enjoying a loving relationship or getting paid for my true gifts and talents. Since uncovering the truth and realizing those were just a bunch of lies and outdated stories, I have created a truly fantastic life of freedom, joy, love and abundance!
Helping you to recognize and reframe the stories that are holding YOU back is my passion, my purpose, and my complete truth.
My blog, my videos, my retreats, my online courses, my workshops and my one-on-one coaching packages are all ways I connect and communicate with you to demonstrate how you can Change Your Story and Change Your Life.
You really can be, do or have anything you desire. For many of you, it may not even be clear yet what it is you desire. I totally get that. For so many years I lived in a fog as a people-pleasing zombie mom. I couldn't make even the simplest of decisions without checking with at least 3 other people. I lived in complete fear all the time. To know me today would be very hard to believe that. Today, I live boldly and passionately. I go after what I want without apology and I have never felt happier, freer or more empowered.
I want this for you!
As you heal, the world heals.
Follow me on FB at www.facebook.com/2ndActLifeCoaching
and on IG at www.instagram.com/2_nd_act