CLASSES AND PRIVATE TREATMENTS THAT HELP YOU TO REACH YOUR TRUE POTENTIAL
OUR TEACHERS HAVE DECADES OF EXPERIENCE AND ARE MASTERS OF THE HEALING ARTS
PRIVATES AND PACKAGES
COCOON MONTHLY PACKAGES
Monthly unlimited classes
New member gift
Priority early notice emails on special events 
Monthly unlimited classes
Private 60min treatment
New member gift 
Priority early notice emails on special events 
Monthly unlimited classes
2 x private 60min treatments 
New member gift 
Priority early notice emails on special events 
Monthly unlimited classes
2 x private 60min treatments 
1 coaching session at Cocoon or on the phone
10% discount on workshops
New member gift 
Priority early notice emails on special events
*2 MONTH MINIMUM ON ALL PACKAGES
PRIVATE IN-PERSON TREATMENTS
COCOON CURATED WELLNESS COACHING
Get assigned a personalised, curated program according to your goals with your own coach to personally guide you through the process. Learn more
COCOON FOR YOUR SPECIAL EVENT
Workplace wellness events, celebrations, birthdays, team building and motivation. Experiences such as soundbaths, tea ceremony, meditation, and mindful movement. Schedule at Cocoon or wherever you're located. Email or call for rates and availability.
COCOON AT HOME
For a $75 upgrade some Private Treatments can be experience in the comfort of your home. When purchasing a session, please designate if you would like us to come to you. Subject to a 10 mile radius of Cocoon Santa Monica.
AMANDA GESTETNER
REIKI, MEDITATION & WELLNESS COACHING
Founder of Cocoon Amanda officially holds the title of Cocoon mum. She's a skilled practitioner helping her clients bring energy back into their lives, create a strong self-esteem and move forward in life feeling strong. She believes Reiki is so much more than a treatment: it's a lifestyle, a belief system, a philosophy that takes experience, practice and whole lot of honing.
BRIGITA SLEKYS
TRADITIONAL CHINESE MEDICINE & Acupuncture
Brigita come to us with 13 years of practice, having studied at Bastyr University in Seattle, and completing a 1 year Herbal Diploma in Shanghai, China.  A Santa Monica local, Brigita commonly treats neck, back and joint pain, stress, insomnia, anxiety, anti-aging concerns, facial rejuvenation, digestive complaints, and more. Brigita is Board Certified in California.
DARREN BECKET
FITNESS, MEDITATION, QIGONG, TEA CEREMONY, BODYWORK & wellness coaching
SoCal native, Darren spent his childhood enthralled with outdoor activities, martial arts, sports and a passion for how humans relate to each other. He graduated with a degree in conflict mediation, and furthered his studies in sports medicine, psychology and the healing arts. The combination of these subjects led him to the creation of a cohesive philosophy for optimal health and well-being.
STANCY TOMLINSON
NLP, SOUND HEALING & wellness coaching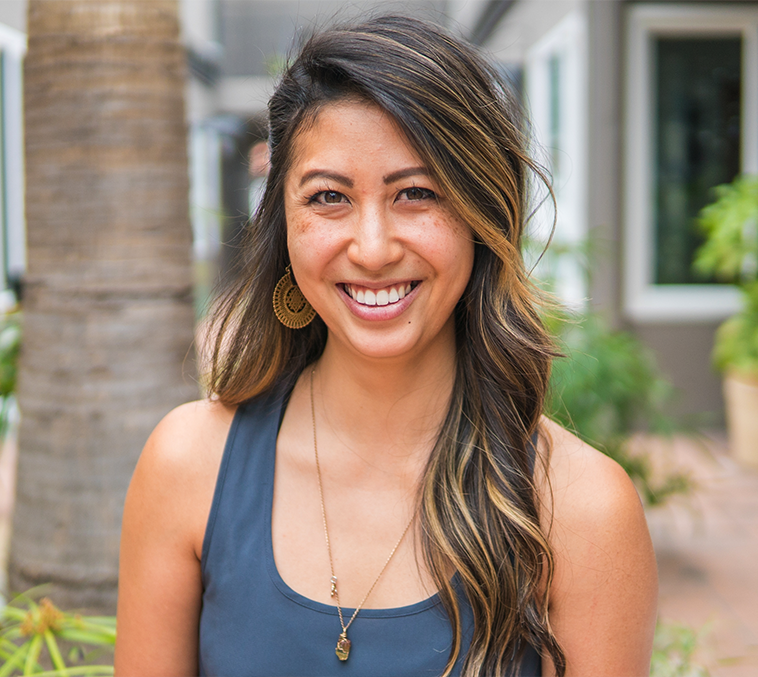 CHLOE BANALES
Movement-based Medicine, ACUPUNCTURE & WELLNESS COACHING
Chloe aims to create a collective ripple effect of positive change for this world, empowering the ones that empower others — one needle at a time. Her background stems from Kinesiology, Chinese Medicine, Esoteric Acupuncture, Reiki, Cosmetic Acupuncture, telemedicine and facilitating group healing events.
As a result of her work, clients/patients have experienced an increase in creativity, positive shifts in their well-being, improved skin health, better menstrual cycles, and greater clarity in their life's purpose.
LEANDRA ROSE
BREATHWORK & WELLNESS COACHING
Leandra is a women's transformational coach. She specializes in empowering women to release familial and cultural imprinting so that they can live their most authentic and fulfilling lives. Leandra has transformed her own traumas into the powerful healing presence and process she brings to her sessions and workshops. It's also her extensive background in psychology, somatic experiencing & mindfulness that creates a unique, empowering and safe space for her clients and students to unlock their highest potential.
KATE SAVAGE
MINDFULNESS MEDITATION
With roots in many years of Buddhist meditation practice, Kate has a deep understanding of the contemplative traditions that have given rise to current mindfulness trends. Kate is a Certified Mindfulness Instructor through the International Mindfulness Teacher Association. In her decades-long teaching career she's taught adults, university students, those in at-risk youth programs, and students in public and independent schools. 
PHOENIX BESS
QI GONG & BODYWORK
Phoenix Bess teaches private, as well as group, Qigong lessons. She also offers Extreme Relaxation Qigong Massage  and Deep Tissue Lymphatic Drainage Therapy at Cocoon. Phoenix studied the art and practice of Qigong with Qigong and Choi Gar Kung Fu Master, Liang Shi, in the Sierra Andes of Ecuador. She trained as an acupuncturist, herbalist, alternative medicine therapist, and assisted Liang Shi in his practice as an alternative medicine doctor, administering Tui Na Massage and various alternative therapies to the patients they saw in his busy Chinese Healing and Acupuncture Clinic.
DR. ANJALI KASUNICH 
NATUROPATHIC MEDICINE & WELLNESS COACHING
Dr. Anjali earned her Doctorate in Naturopathic Medicine from Bastyr University in San Diego – a prestigious 4-year, post-graduate, Naturopathic Medical program. She continued her training in Women's Health, Digestive Health, Detoxification Support, Homeopathy and Ayurveda at renowned health centers throughout California, including the Chopra Center in San Diego.
CHELSEA MUEHE
BREATHWORK & BODYWORK
Chelsea has been studying holistic healing arts since 20212, first through massage and bodywork, then Reiki, Sound healing, somatic movement, meditation, nutrition, breathwork and health/life coaching. She is passionate about helping her clients to connect deeply with themselves; mentally, physically, emotionally, spiritually, and energetically. Her greatest joy is supporting clients in connecting with their own capacity to heal themselves, connect with their intuition, gain clarity on their path onward, and restore balance in their life.
MICHELLE BERC
SOUND HEALING, BREATHWORK, Heartmath & vibrational therapy
Michelle Berc has been practicing Sound Healing for over a decade and has received a certification in the field from the Sound & Consciousness Institute in San Francisco. She is known for her 'Sonic Being' signature chakra balancing sound bath with the crystal bowls. Her sound mediation sessions expand into a full sonic journey as she often incorporates other distinctive sounds such as Himalayan Singing Bowls, Sacred Drums, Percussion accents, Gongs, and other rare instruments. 
THELMA SUMMER JARMAN
Goddess Circle
ANGELIQUE BIANCA
SOUND BATH & YOGA NIDRA
A lifetime of yoga and meditation practice, 400 hours of yoga teacher training, 30+ years career as a musician and certified as an energy healer in 2008, was a natural progression for Angelique to combine her passion for yoga, wellness and music.